Have you ever thought of adding or upgrading accessories for car? Bringing you some cool gadgets and accessories for car. Few of them might be pre-installed or factory fitted, but you can enhance your style and performance with these tech gadgets and accessories.
1.  Audio/ Video systems:
Who doesn't love to enjoy music on-the-go, nowadays most of the cars come preinstalled with audio systems but most of the time you will find that they have limited functions. You might be missing over a Bluetooth connectivity, touch screen or video playback. Check out some custom chosen audio-video system for your car. If you are not budget constraint you can have inbuilt GPS navigation, USB playback, climate control, camera view and other functionalities. Check some of best audio-video systems below.
2.  Speakers/ Woofers/ Tweeters
Does your car includes surround sound? If you love dynamic multidirectional audio quality than you can install following speakers and woofers. These are easy to attach and require less technical skill as your audio system allows you to connect more speakers simultaneously. Woofers and Tweeters help in upgrading bass and treble respectively.  Check them out below.
3.  Bass tubes
Feel the THUMP. Let eyes and ears follow your car. If you love heavy bass tracks or just want to shake your entire car with deep bass, you can look to following speakers and woofers. These speakers are comparatively rich in generating bass without any distortion. Make sure your audio system supports them happily or you might need to install an amplifier to increase output.
4.  Amplifiers
You can't increase audio output without investing in a good amplifier kit. Choose wisely and according to your audio needs. An amplifier amplifies audio output technically without hampering performance and load on your existing audio system. Check few best amplifiers below.
5.  GPS navigation system
If you are a national rider or travels on unknown roads then these standalone GPS navigator systems are a must have for your car. These work independently and receives signals from satellite and provides very accurate data than internet based smartphone GPS. Real-time traffic and turns allow you to move smoothly without worrying about road conditions. Check out best GPS systems here.
6.  Bluetooth handsfree kit
If your car has a basic audio system and misses over Bluetooth connectivity then you can easily enhance its capability just by installing this dirt cheap Bluetooth handsfree kit. These kits allow you to talk freely on the go without touching your phone. It also saves you from accidents and traffic penalties. You can plug same into your USB port and let it pair with your smartphone. Prices start from as low as Rs 200. Check out some best Bluetooth handsfree kit here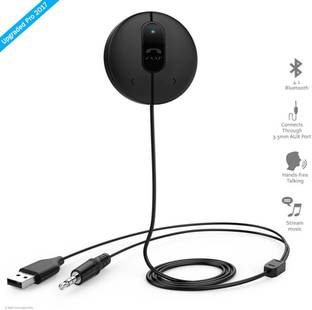 7.  Rear view camera system
Park your car smoothly and worry free with these rear view camera system. You can have a real-time view of backside just by looking at your rear mirror. These systems install flawlessly over your existing mirrors and costs inexpensive. Few of systems are embedded with audio video capabilities which enhance the multimedia experience on the move. Check some of best camera systems below.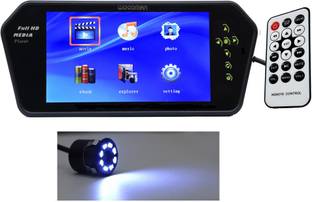 8.  LED display screen
Upgrade audio-video experience with these standalone LED screens. You can use same to install them either front or at the back seat. Touch screen functionalities help you navigate easily to enjoy multimedia content. Select LED screens from options below.
9.  Dashboard cam
Dashboard cams are mostly used for recording your entire ride. If you are an adventure freak, you can use a dashboard cam to make your video blogs. It also helps in identifying reasons for accidents and further investigations. Its an international standard but it's making its path into Indian riding environment. You can choose waterproof and dustproof cams from here.
10. Mobile holders
Hold your smartphone smartly, just attach these mobile holders to your front mirror and enjoy handsfree communication and navigation. These have air suction cup inside which keeps them intact on the mirror and you can move them instantly anywhere. Choose best mobile holders from below.
11. USB car chargers
Charge your smartphone on the move with these dual output USB car chargers. You can charge any of your USB devices with them. It plugs into your cigarette port holder and provides output to USB cable.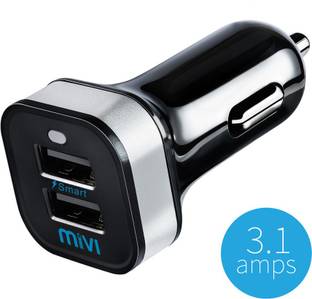 12. AUX cables
Enjoy music from your phone. Most of audio systems have AUX feature which allows music playback from your phone. Who doesn't love to enjoy favorite tracks of smartphone? Get some best quality AUX cables from here.
13. Car fragrances
Let your car smell fresh and pleasant. Remove all that unpleasant smell with these nice fragrances. Choose from some of the exclusive car perfumes.
14. 3D metallic stickers
Show your style with these cool 3D metallic stickers. If you want to show your attitude, you can stick these funky and stylish 3D stickers from below categories.
15. LED Lights
Add a spark with these premium sporty LED lights. These high quality LED light enhances the visual experience as same as an expensive premium car. You can choose from daytime front lights to flashing backlights.
16. Portable vacuum cleaner
Clean your car time to time, which eliminates dust and dirt from interiors. It enhances life and keeps your car dust free. You can choose mini vacuum cleaners from below.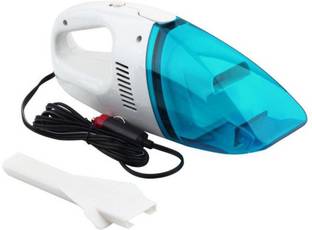 Comment below if you have any other cool accessory in your car.
ALSO READ